Solar panels, don't they seem like a fantastic way to contribute to the green revolution while saving on energy costs? Absolutely! But as we stand on the threshold of making this change, one question often comes to mind – 'Should I install them myself or consider hiring a professional solar panel installer?'
This thought process is common, considering we all love a bit of DIY. However, when it comes to solar panels, it's a whole different ball game. The stakes are higher, and the benefits of hiring a professional solar panel installer extend way beyond the obvious. So, sit back, grab the cup of your favorite coffee, and let's walk you through why hiring professionals is the smart move.
Hiring a Professional Solar Panel Installer for Proper Installation
At first glance, it might seem like solar panel installation is all about mounting some panels on your roof and connecting a few wires. But, oh boy, it's so much more than that. Professional solar panel installers have undergone extensive training and have the necessary experience to ensure the installation is carried out correctly and safely.
They analyze your property, decide the optimal placement for maximum sun exposure, and efficiently configure the system to your home's electrical grid. The best part? They tackle any hurdles during the installation, something that could otherwise end in a DIY disaster. Plus, these experts know how to prevent potential damage to your roof during installation, which is a huge relief, right?
Compliance with Local Regulations and Codes
While we're no strangers to paperwork and bureaucracy, solar panel installation can become a tad bit overwhelming. Here's where your superhero professional installers swoop in again.
Familiarity with Local Regulations
From zoning codes to construction permits, professional solar panel installers knows local regulations of your area. This might not sound like much, but believe me. It's a lifesaver. They help you secure necessary permits and ensure the installation is compliant with local laws. After all, the last thing we want is to run into legal trouble, right?
Adherence to Safety Codes
How often do we find ourselves wondering about the safety of our electrical installations? Safety codes exist for a reason, and when it comes to solar panels, adherence to these codes is paramount. Your professional installer ensures that your solar panel system meets all the safety guidelines, creating a safe environment for you and your family. It's not just about being lawful; it's about ensuring the safety of our loved ones.
Access to Quality Equipment and Materials
Alright, let's talk shop. High-quality solar panels, inverters, mounting equipment – the whole shebang. A professional solar panel installer has access to these top-notch materials, which might not be available to an average Joe. Why does this matter? Well, these materials dramatically impact the efficiency and lifespan of your solar panel system. We all want a system that lasts and delivers, don't we?
Warranty and Post-Installation Support
Ah, warranties – the unsung heroes of any purchase. The same goes for solar panel installations. But the buck doesn't stop at just warranties; we're also talking about a lifeline of post-installation support.
Warranty Coverage
While solar panel manufacturers typically provide a product warranty, many professional installers also offer an installation warranty. This coverage provides peace of mind, knowing that if something does go wrong, you're not left in the lurch. Remember, while solar panels are designed for longevity, having a backup plan never hurt anyone.
Maintenance and Support from Hiring a Professional Solar Panel Installer
Now, let's move on to the after-care. Solar panels, like any other equipment, need regular check-ups and adjustments to keep them in prime condition. A professional installer doesn't just walk away after setting up your system; they provide ongoing maintenance and support. Whether it's a minor hiccup or a need for significant adjustments, these experts have your back.
Time and Cost Efficiency
Time and money – two things we all wish we had more of. Guess what? Hiring a professional solar panel installer can save you both!
Quick Installation Through Hiring a Professional Solar Panel Installer
While the idea of taking up solar panel installation as a weekend DIY project might seem tempting, it's a time-consuming task. Professional installers, with their experience and expertise, can get your system up and running much quicker. So, you get to sit back, relax, and let the professionals do their thing. Before you know it, your home will be powered by clean, green energy.
Long-Term Savings in Hiring a Professional Solar Panel Installer
It's easy to see the upfront costs of hiring a professional and be tempted to cut costs with a DIY installation. However, like an iceberg, what's beneath the surface is far more critical. Incorrect installation can lead to system inefficiency, potential damages, or costly repairs down the line. In contrast, a professional installation ensures optimal functionality and efficiency from the get-go, leading to substantial savings on your energy bills over time.
Bottomline
Well, there you have it! Solar panel installation is not your run-of-the-mill DIY project. It requires expertise, knowledge, and a lot of precision. While the upfront costs of hiring a professional solar panel installer may be more than a DIY approach, the long-term benefits – proper installation, regulatory compliance, access to quality materials, warranties, and support – make it a worthwhile investment. Remember, our journey to renewable energy is not a sprint; it's a marathon. So, take your time, weigh your options, and when you're ready, take that leap. Trust me, and your future self will thank you. Give SolarMentor a call at 718-374-2629 – let's shape a better,
Summary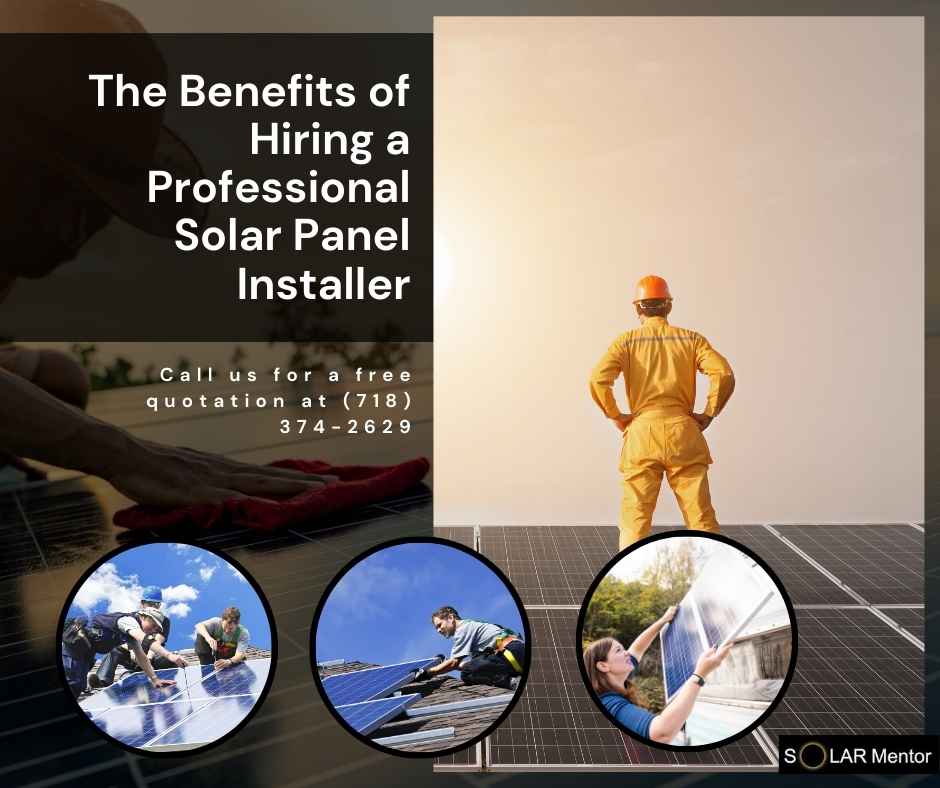 Article Name
The Benefits of Hiring a Professional Solar Panel Installer
Description
Solar panels, don't they seem like a fantastic way to contribute to the green revolution while saving on energy costs? Absolutely! But as we stand on the threshold of making this change, one question often comes to mind - 'Should I install them myself or consider hiring a professional solar panel installer?'
Author
Publisher Name
Publisher Logo